A Centennial Bottle
---
This Civil War canteen-shaped bottle was made as a commemorative piece on the occasion of West Virginia's Centennial (1863 – 1963). These bottles were made in two colors - old gold (vaseline in this case) and blue, representing official state colors (the reverse side of the blue bottle has an outline of the state of West Virginia).They were sold at state park gift shops and other state authorized locations.
The scenes on the front and back roughly represent the Seal of the State of West Virginia. The bottle is embossed on the bottom "Made by Imperial Glass". It measures 6 1/2" wide, 1 3/4" deep and stands 7" high. They did not come with corks.
Depicted on the front are a farmer and a miner as well as the words "Montani Semper Liberi" (Mountaineers Are Always Free) and STATE OF WEST VIRGINIA.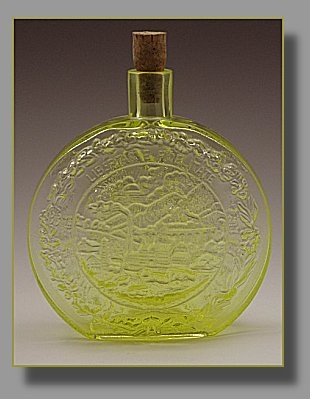 The reverse side is encircled by a wreath of laurel and oak leaves. A wooded mountain is on the left and a slope
with a log farmhouse on the right. On the side of the mountain is a representation of the Tray Run Viaduct, an engineering feat of the time, and a train about to pass over the viaduct. A factory, fronted by a river with boats, a derrick and a shed, and a meadow with sheep and cattle grazing indicate the leading characteristics and products
of the state. Also on this side the sun emerges from the clouds, and the rays of the sun contain the Latin phrase ''Libertas E Fidelitate,'' which means ''Freedom and Loyalty.''